Sea Duck Joint Venture Planning Documents
Strategic Plan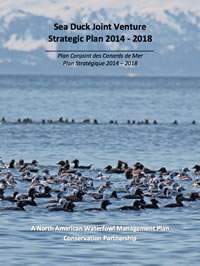 The 2014-2018 Sea Duck Joint Venture Strategic Plan [1 MB PDF] summarizes accomplishments of the SDJV since its inception, identifies remaining high priority information gaps, and lays out a strategy for filling those gaps. This strategic plan reflects a significant shift in focus for the SDJV, from a broad-based science program to a more focused program intended to provide information most needed by managers to make informed decisions. The highest priority efforts for the SDJV over the next five years will be to: 1) estimate parameters needed to manage and ensure sustainability of sea duck harvest, 2) better understand habitat use and needs, and 3) ensure that the SDJV maximizes learning from research that has already been done. To address the latter, the SDJV is developing a Communications and Outreach plan to communicate this information to target audiences.
Implementation Plan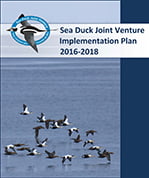 The objective of the Sea Duck Joint Venture (SDJV) Implementation Plan [2.2 MB PDF] is to describe current SDJV priorities, identify deliverables, set out time lines, and identify the individual(s) responsible for implementation of priorities of the SDJV Strategic Plan over the period January 2016 through December 2018. The Implementation Plan also reports on the activities conducted in 2015. The 3-year Implementation Plan is a living document that is revisited annually and revised to reflect changing SDJV priorities, mandates, and progress toward objectives. This document revises the plan published in April 2015.
Strategic Communications Plan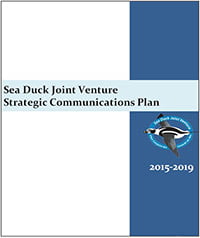 The Sea Duck Joint Venture developed this SDJV Strategic Communications Plan [1 MB PDF] for 2015-2019 following a strategic communications planning approach. This plan will guide the communications efforts among SDJV staff, SDJV Continental Technical Team (CTT), Management Board, other partners, and contractors..