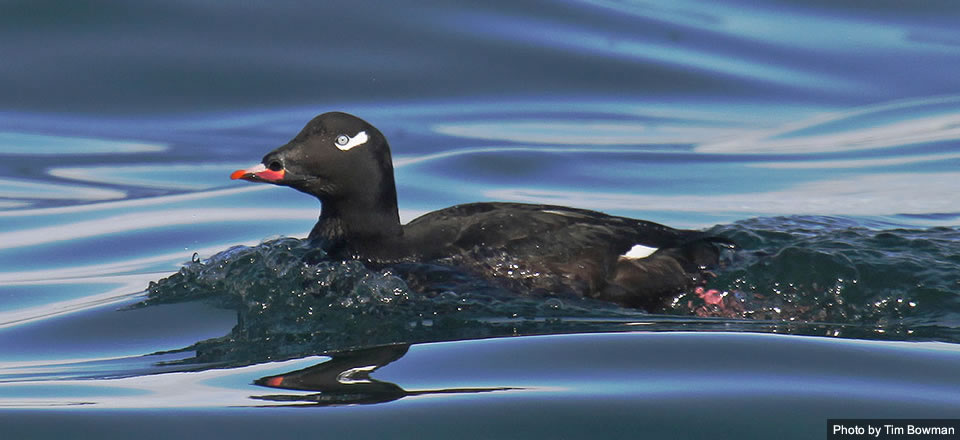 Atlantic and Great Lakes Sea Duck Migration Study
Project Description
Several North American sea duck populations are smaller than they were historically, although reasons for declines are unknown. Population delineation (i.e., the links among breeding, molting, wintering, and staging areas) is critical information needed to design and interpret monitoring surveys, to better understand population ecology and population dynamics, and to determine limiting factors and potential strategies to improve conservation status of sea ducks. Sea ducks are one of the primary wildlife species utilizing coastal habitats in the Atlantic during winter and may serve as good barometers of the health of marine environments.
Extensive satellite telemetry studies have been done on several sea duck species on the Pacific coast, but relatively little is known about population delineation for sea ducks in eastern North America, most notably for Surf Scoter, Black Scoter, White-winged Scoter, and Long-tailed Duck – all of which are species of conservation concern.  There is also an immediate need to identify the most important habitats and patterns of use for sea ducks prior to placement of wind turbines to minimize potential adverse effects on sea ducks and their habitats.
This project is a large-scale, multi-year, multi-partner satellite tracking program for sea ducks along the Atlantic coast and Great Lakes, with the following primary objectives:
Fully describe the annual migration patterns for four species of sea ducks (surf scoter, black scoter, white-winged scoter, long-tailed duck) in the Atlantic flyway and Great Lakes by 2014.
Map local movements and estimate length-of-stay during winter for individual radio-marked ducks in areas proposed for placement of wind turbines (e.g., Maine-Penobscot Bay, Nantucket Sound, and coastal Rhode Island).
Identify near-shore and offshore habitats of high significance to sea ducks to help inform habitat conservation efforts.
Estimate rates of annual site fidelity to wintering areas, breeding areas, and molting areas for all four focal species in the Atlantic flyway.
More than 400 satellite transmitters were deployed in sea ducks between 2009 and 2018. The project is funded in part by the Sea Duck Joint Venture and in part by various partners.
Reports and Publications
Progress Report – Results and overall Migration Maps – June 2015 [PDF]
General Study Information [PDF]
Migration Maps – Summary Maps, all Years
Long-tailed Duck: (click here for maps)
Black Scoter: (click here for maps)
Surf Scoter: (click here for maps)
White-winged Scoter: (click here for maps)