Sea Duck Key Habitat Sites Atlas
SDJV is Creating a Sea Duck Key Habitat Sites Atlas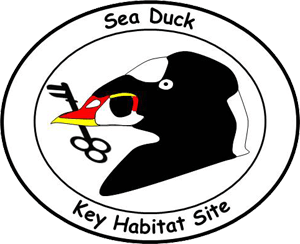 Studies supported by the North American Sea Duck Joint Venture partnership have helped improve our understanding of important sea duck habitats across the continent. The Sea Duck Joint Venture is now spearheading an effort to synthesize information from surveys, satellite telemetry studies, and expert knowledge to identify areas of special importance to sea ducks throughout North America. Called the Sea Duck Key Habitat Sites Atlas, its purpose is to make information on seasonal distribution and abundance of sea ducks readily available to decision-makers and stakeholders such as the coastal Habitat Joint Ventures under NAWMP. Other potential users may include conservation organizations, natural resource agencies, industry, and marine and land use planners. The atlas and associated shape files will be available online by the end of 2021.
The criteria we're using restrict key site designation to areas that are vital to sea ducks at a scale that is meaningful and practical in terms of habitat conservation and protection. It will complement other bird habitat designations such as Important Bird Areas, Marine Protected Areas, and NAWMP's Areas of Continental Significance to Waterfowl. The atlas can be used to:
Provide justification for protecting areas of importance to sea ducks
Improve decision making for resource development in key areas
Direct research investigating biotic and abiotic features that characterize sea duck habitats, and
Predict how habitat conditions may change and potentially impact populations.
This is an important first step for ensuring that adequate quantity and quality of sea duck habitat remains intact.