About the Sea Duck Joint Venture
What is the Sea Duck Joint Venture?
In the early 1990s it became apparent that several populations of sea ducks were declining in numbers for unknown reasons. An increased awareness of sea duck issues followed, and the Sea Duck Joint Venture (SDJV) was proposed as a mechanism to address information gaps needed to improve management and conservation of North American sea ducks. When the North American Waterfowl Management Plan (NAWMP) Plan Committee endorsed the SDJV in 1998, even basic biological information was lacking for most sea duck species. The SDJV partnership set out to address key questions such as the scale at which sea ducks should be considered for management, what the key limiting factors were, what habitats were most important for sea ducks, and whether current harvest was sustainable. Although much has been learned, many knowledge gaps remain including the status of some populations and the relative importance of potential limiting factors.
The SDJV is guided by 2 planning documents, a Strategic Plan with a 5-year planning scale, and an Implementation Plan, with a 3-year planning scale that's revised annually.
Until 2009, the SDJV science program targeted a broad array of priority information needs (identified in previous strategic plans) and supported research and monitoring projects through a competitive proposal process. In 2010, the SDJV held an internal strategic planning session that identified the highest priority species groups and information gaps, and then followed up with surveys of waterfowl managers and habitat conservationists to confirm that those SDJV priorities would provide information most needed by managers. These efforts helped focus the SDJV science program on a narrower set of high priority initiatives and resulted in a more directed science program. Specifically, the current emphasis is to obtain information that will help ensure that harvest is sustainable and inform habitat conservation actions. The highest priority species are surf scoter, black scoter, white-winged scoter, long-tailed duck, and American common eider.
Vision
Sustainable populations of North American sea ducks are maintained throughout their ranges.
Mission
The SDJV promotes the conservation of all North American sea ducks through partnerships by providing greater knowledge and understanding for effective management.
Goals
The SDJV works with partners to generate and disseminate knowledge that will inform management decisions and sea duck conservation in North America.
Sea Duck Joint Venture Organizational Structure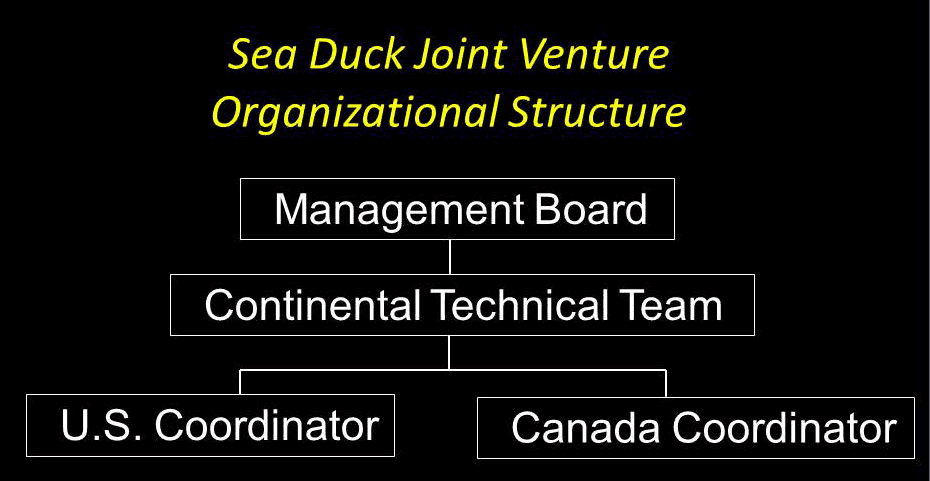 Sea Duck Joint Venture Partner Organizations