Calling all Sea Duck enthusiasts! Join us for the 7th International Virtual Sea Duck Conference (ISDC) this January 8-11, 2024.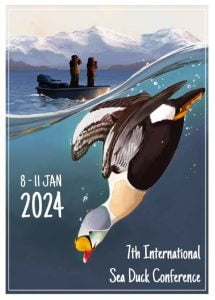 The gathering will draw together sea duck enthusiasts from academia, government agencies, conservation organizations, industry, and communities to discuss our shared interests in sea duck research, conservation, management, and community connections.
The conference has been held in a variety of locations since 2002, but is going virtual to ensure the sea duck community from far and wide can join us. The conference will be much more than zoom presentations – the virtual platform will provide diverse opportunities for interaction and networking.
Some of the big highlights will include a series of virtual field trips representing critical seaduck sites from coast to coast to coast, an interactive poster hall, an art show, live networking lounge, and more.
Each day of the conference will hold a combination of plenary speakers, oral presentations, lightning talks, panel discussions, posters, and an art exhibit. The daily foci are:
Day 1: Collaboration & Knowledge: Exploring integrative learning and science
Day 2: Cultural Connections to Sea Ducks: Linking communities that value sea ducks
Day 3: Humans in Sea Duck Habitats: Understanding and mitigating unintended impacts
Day 4: Coexistence & Conservation: Acting for climate change adaptation and resilience
Through this gathering, attendees can gain new insights, share their knowledge, and work towards building a better future for sea ducks.
Early bird registration is open until November 15th, after which rates will rise.
Learn more & register at the conference website!